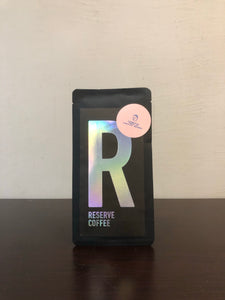 "WBrC 7th COFFEE" ETHIOPIA - Koke Amber PR12 (Carbonic Maceration)
Regular price
Sale price
$33.00
---
Röststätte (Berlin)
Ethiopia - Koke Amber PR12 100g
This is the Coffee that Röststätte's Barista Nicole Battefeld-Montgomery used and placed 7th at the World Brewers Cup Championship 2021 in Milan.
Notes: Pineapple, Orange Jam, Passionfruit, White Wine
Acidity: Super Complex, Juicy, Sweet
Region: Yirgacheffe
Washing Station: Koke Washing Station
Altitude: 1950-2300masl
Variety: Heriloom
Process: Carbonic Maceration
The first CM coffee from the Koke Washing Station, named after Primrose manager Koke Abraham, is grown at 1,950 - 2,300 meters altitude in small backyards in Guji and Yirgacheffe. Only the ripe and best coffee cherries are sorted by hand and picked at 20-22 brix.
Koke Amber PR 12 is an absolute highlight as part of Project Origin's renowned Carbonic Maceration (CM) Selections. The coffee certainly needs time to unfold its full potential. We recommend waiting at least eight days. Initially, fruity and complex notes dominate the taste, from the 15th The day after the roasting date, the coffee becomes more stable and slightly softer. Until then, you can discover new tasting notes every day.
The coffee cherries are picked by hand with perfect maturity, and selected by hand in a water bath, sorting out immature and overripe cherries. Koke Amber PR 12 is a washed CM Selection coffee. Here, the pulp is separated from the cherries before they are put in the tanks. Temperature and humidity-controlled conditions prevail in the tank itself. Carbon dioxide (CO2) is fed into the tanks to remove the oxygen via an exhaust air valve. Through this controlled type of fermentation, different types of yeast production can take place and their interaction with the coffee can be controlled in order to create very exciting taste experiences in a targeted manner.