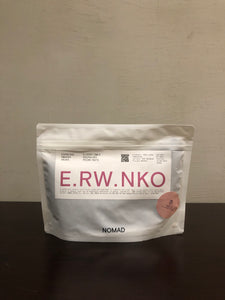 "House Espresso" RWANDA - Nkora Espresso (Washed)
Regular price
Sale price
$24.00
---
Nomad (Barcelona)
This is the "Fruity & Juicy" coffee we're serving in our coffeehouse now.
Rwanda - Nokra Espresso 250g

Notes: Elderflower, Pecan Nuts, Raspberry
A coffee with notes of wild fruits, honey and elderflower in fragrance and aroma. Sweet in the mouth, with a citric-malic acidity, a velvety mouthfeel and an aftertaste that reminds us of pecans.

Harvest: June 2021
Region: Rustsiro
Altitude: 1450-1850 masl
Variety: Red bourbon
Process: Washed


Nkora Washing Station is the oldest and biggest washing station in Rwanda, close to the city Gisenyi. It was built in 1957, before the independence from the Belgians in 1962. Nkora is named after a small fishing village located by the shores of Lake Kivu. It has the capacity of producing 500 tonnes of parchment coffee per annual season.
Caferwa, an exporting company created in 1995, bought the washing station in 2003 and renovated it. Despite being managed by Caferwa, Nkora is supplied by Cocanko (Cooperative Des Cafeiculteurs de N'Kora). This cooperative has 396 members and buys coffee from the smallholder farmers from the zone.
Due to government support, Rwanda went from having just one washing station to more than 300. The international market for cherries is so competitive that the National Agriculture Exports Development Board (NAEB) implemented a new regulation known as "zoning". It means that farmers can only sell their cherries within specific zones, in order to encourage the development of long-term relationships between farmers and washing stations.
The cherries from this lot have been hand-picked and hand-sorter. They were then fermented without water for 12-18 hours and later sun-dried on raised beds for 16-21 days. Moisture was monitored during the drying stage and the coffee beds were covered when the solar radiation was too intense, just to avoid the parchment from cracking open.