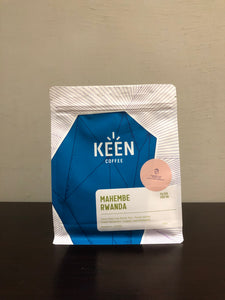 RWANDA - Mahembe (Washed)
Regular price
Sale price
$24.00
---
Keen (Utrecht)
Rwanda - Mahembe 250g
Be prepared to get hit in the palate with a flavour explosion. Fresh lime, Sencha notes and sweet plum make for a juicy cup with a syrupy thickness and a jammy quality that we just adore. Coffees from the Rwandan Mahembe washing station get sweeter and juicier with each passing year.
Washing Station: Mahembe
Producer: Justin Musabyiama
Region: Nyamasheke
Varietal: Red Bourbon
Altitude: 1,900m
Process: Washed
Harvest Period: May – July
Flavour: Lime, Sencha, plum, rosehip, redcurrant & tangerine
Flavour profile
Owee, this cup is complex! We're not sure what hit us first during the cupping; the coffee's texture or the flavours that came bursting through. Let's start with the flavour. When sipping this juicy cup of Mahembe, you'll be treated to an explosive flavour combination, which will immediately transport your taste buds to the rolling hills of Rwanda. Lime notes give this coffee a fresh vibe, while sencha notes emphasise the coffee's natural aroma. A touch of plumcuts through that fresh and bitter feast with a sweetness that we just adore and reminds us of our favourite jams. Then the texture: this bean produces a coffee that has a syrupy thickness that coats your tongue and the inside of your mouth in the most extraordinary way. A true lipsmacker if there ever was one!
Story
Mahembe is back with a vengeance. For the third consecutive year, we were able to get our hands on a batch of these sweet, juicy beans and we couldn't be happier to report that this year's batch is even sweeter and juicier than we could have hoped. It just keeps getting better and better each year and this is largely thanks to the efforts of producer and washing station holder, Justin Musabyiama.
Just like his father before him, Justin is extremely passionate about coffee and highly committed to nurturing the relationships he has with the smallholders that deliver their cherries to the Mahembe washing station. Not only does he make sure that the smallholders are fairly and competitively compensated for their hard work, he also invests in the community that he is such a proud part of by, amongst other things, building a wet mill on his father's plantation.
Another reason that these lots are getting better each year is the fact that, at Mahembe, the coffee goes through a strict routine for reception and a rigorous sorting process. In addition to the farmers being expected to sort their own cherries before delivering them to Mahembe, Justin's team will conduct further sorting at the washing station by placing the cherries in a tank and eliminating floaters, which are then processed separately. What we're trying to say is that Justin and his team have never let us down and that you could randomly choose any lot from this washing station and end up with a stunning coffee that you won't soon forget.