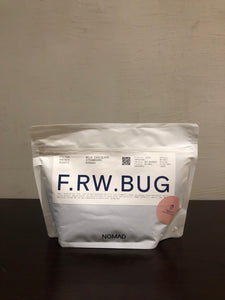 RWANDA - Bugoyi (Natural Anaerobic)
Regular price
Sale price
$28.00
---
Nomad (Barcelona)
Rwanda - Bugoyi 250g

Notes: Banana, Milk Chocolate, Strawberry
Sweet, balanced and fresh. Lots of milk chocolate and fruit like strawberry, melon and banana. Clean and mellow, with a citric acidity, medium bodied, and and aftertaste of cocoa powder and red fruits.

Harvest: June 2021
Region: Rutsiro
Altitude: 1500-1900 masl
Variety: Red bourbon
Process: Natural anaerobic


Bugoyi is one of Emmanuel Rusatira's main CWS (Central Washing Station). It is located in a village called Buhimba, where the main economic activities are trade, coffee farming and fishing (due to its proximity to Lake Kivu). The village is well known for its proximity to the nationwide famous Nkora market. Local farmers celebrate the Ubusabane, a common celebration with drinking, eating and dancing, and always perform the umuganda, which is the general community cleaning that takes place all over Rwanda.
"At our CWS we have been blessed to witness an interesting tradition developed by farmers and our staff. During the coffee season, they all try their best to save some money which they later combine. They come together as a general community and have a big party. There is dancing, eating, drinking and a coffee Q&A challenge!" says Emma.
The coffees coming from Bugoyi are consistently amazing. Located on the shore of Lake Kivu, the CWS is blessed with gentle winds to cool the beans and soft sunlight to dry the coffee evenly. We love to bring visitors to Bugoyi as the view on the Lake is absolutely stunning. You can expect clean coffees with a full-body and fruity tasting notes like
raspberry, plums, and black currant.
Emma supports farmers with access to fertilisers and donations of seedlings, helps them to check the condition of their trees and trains them through the Farmer Field Schools with GAP analysis, aimed at understanding agronomic conditions, practices, challenges, and farmer attitudes. Furthermore, he supports the farmers by covering their social insurance and giving them second payments at the end of the crop.
"Baho means "stay alive" or "be strong", "don't give up". It is the kind of thing you say to friends when they tell you of their misfortunes or problems. When they want to give up. You hug them and say "Baho!". You give them comfort. This is what I aim to achieve with my company and the coffees we produce, to give comfort to the ones who drink it and the ones who grow it. It is something that is deeply connected to my personal history as a genocide survivor and to the journey of coffee. Coffee is a crop that goes through many difficulties. It is hit by the weather, by bad management, then you pick it, heat if with fire… If you could ask coffee to tell you its journey you'd cry. I believe coffee can, in fact, speak. And for me, it says something like… Baho."
Baho's experimental processing methods are carefully done with maximum precision. They start at the farm, where harvesting is done using selective picking to ensure only the highest quality cherries are selected. The cherries are then sorted in sorting beds, floated and taken to plastic barrels for fermenting. This specific lot was fermented for 72 hours. The fermentation is monitored (time and temperature), and the drying is done under shade, making the process take up to 40 days.