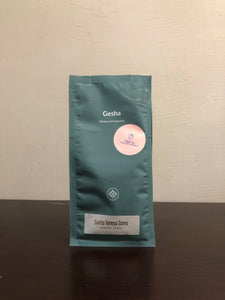 PANAMA - Santa Teresa Zorro Gesha (Natural)
Regular price
Sale price
$42.00
---
Colonna (Bristol)

Panama - Santa Teresa Zerro Gesha 150g

A cup of heady sugared-florals with a bright, and intriguingly tangy, finish.
Variety: Gesha
Process: Natural

Nestled in the cloud-forests of Panama near the Costa-Rican border, lies the stunning Finca Santa Teresa. A place of incredible natural beauty, La Amistad National Park (a UNESCO World Heritage Site) and Panama's highest peak, the Volcan Baru, are close neighbours to the farm.
Rich volcanic soils, high altitudes and weather systems driven from the Pacific and Atlantic down the ridges and valleys of the region combine, creating a perfect micro-climate for the highly-particular curation of some very special lots.
The approach at Finca Santa Theresa is the antithesis of simplicity and care, with harvesting techniques honed to perfection over many years and seasons. Coffees are selected and picked from twenty lots across the farm with cherries processed quickly after being removed from the plant. Washed, honey and natural processes are employed, and depending on the selected method this can see coffee dried on raised beds for up to a month.
Thanks to partnerships established by the farm, young children of the farm's workers attend a purpose-built school built in 2016 through the charity Casa Esperanza, and by coupling with the local hospital in Volcan the improved health and education of the region's next generation are ensured.
The serendipity of the Gesha varietal and the unique terroir of Panama continues to be celebrated and explored, with Gesha featuring prominently in international specialty competitions, and found on menus of the most discerning coffee houses around the world. We are lucky enough to have secured a stunning lot this season, and are proud to present the naturally-processed Santa Teresa
Zorro
.