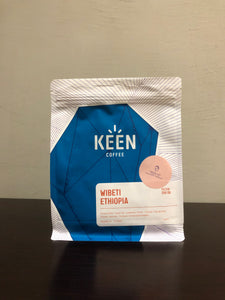 ETHIOPIA - Wibeti (Washed)
Regular price
Sale price
$25.00
---
Keen (Utrecht)

Ethiopia - Wibeti 250g

Don't be fooled by Wibeti's sweet and floral first impression, this coffee has a spicy attitude. Peach, black tea and cardamom make way for more fatty flavours, such as milk chocolate and butter. Wibeti comes from the Yirgacheffe region in Ethiopia, which is known for consistently delivering distinct flavour profiles.

Washing station: Wibeti
Producer: Samuel Gebreselassie
Region: Yirgacheffe
Varietal: Heirloom
Altitude: 1,800m – 1,900m
Process: Fully washed
Harvest Period: December – January
Flavour: Peach, Ceylon tea, cardamom, bergamot, milk chocolate & butter
Flavour profile
Aromatic, chocolatey, sweet, floral, fruity, fresh, bold, funky, juicy, silky, creamy, delicate… There almost aren't enough words in the English language to describe the depths of Wibeti's flavour profile. But we'll try anyway. This coffee starts out with stone fruit-based flavour notes. During the cupping, we mainly sniffed out peaches, but there were also clear hints of Ceylon black tea and cardamom, which gave our nostrils a lovely tickle. Wibeti has a medium body (but feels good about it) and a juicy freshness that comes from the elaborate washing process. A true classic with all the flavours that you could possibly want from a washed Ethiopian coffee and more.
The story – the farm
Wibeti is a co-op of about 5,000 smallholders who use a watermill of the same name. Hence, the name of this fruity, floral coffee. We found Wibeti (the coffee, not the watermill) through our friend, Samuel Gebreselassie. Samuel started out as a picker, growing coffee trees in his backyard, but now he's the manager of the Wibeti washing station that collects the coffee cherries from these 5,000 farmers.
Coffees from the Yirgacheffe region have a super distinct flavour profile that comes from the high altitude, fertile red-brown clay, their washing method and long fermentation in water tanks. It's because of this that people – us included – keep coming back for more.