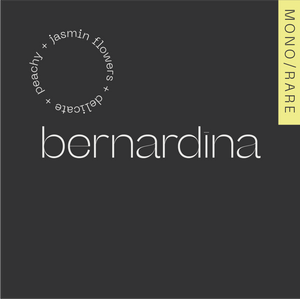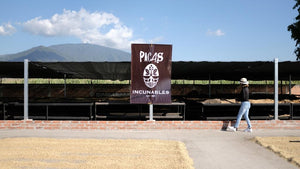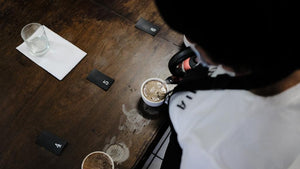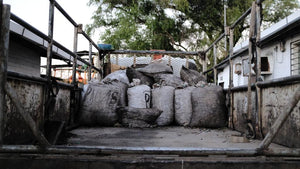 EL SALVADOR - Pacas Family Bernardina (Natural)
Regular price
Sale price
$33.00
---
A Matter of Concrete (Rotterdam)
El Salvador - Pacas Family Bernardina 100g (AMOC Jar)
Profile: Vanilla, Wild Peach & Delicate and Complex
Producer: Pacas Family & Andres Palma
Variety: Bernardina - named after Farm Manager
Region: Finca Santa Juana, Santa Ana
Altitude: 1730masl
Process: Natural

In the world of specialty coffee, few things are as exciting as discovering a new and exceptional coffee variety. This is exactly what happened at Finca Los Bellotos in El Salvador, where a unique varietal named Bernardina was recently identified. The story behind Bernardina is a tale of passion, dedication, and the pursuit of excellence in coffee production. Join us as we delve into the fascinating journey of this remarkable coffee.
What makes this coffee extra cool is that during our origin trip in Central America earlier this year we cupped around 300 coffees and the Bernardina, which we cupped on our last day, was our favorite coffee. We had to get it and share it with you. 
Origin and Farm Legacy
Since 1927, the Pacas family has been the proud owner of Finca Santa Juana, a coffee estate nestled in the picturesque Apaneca-Ilamatepec mountains. This lush expanse of land is dedicated to cultivating the Bourbon and Bernardina coffee varieties. To create the perfect environment for coffee cultivation, the farm strategically incorporates Ingas and mountain trees, establishing an optimal temperature and microclimate that contributes to the creation of a truly distinctive and exceptional coffee product.
Beyond its commitment to coffee excellence, Finca Santa Juana plays a vital role in the local community by providing employment for 24 families. As part of Café Pacas' commitment to social responsibility, they have implemented a wellness program aimed at improving the lives of these families. This program includes workshops covering topics such as self-esteem, conflict resolution, addiction management, and clinical psychology, thereby fostering personal growth and well-being among the farm's workforce.
Additionally, Café Pacas conducts an annual campaign dedicated to supporting individuals with vision impairments, demonstrating their dedication to making a positive impact both within their coffee community and beyond.
The Pacas family is committed to pushing the boundaries of quality and sustainability, combining traditional practices with cutting-edge techniques.
Discovering Bernardina
In 2012, while working on the farm, Ruperto Bernardino Merche, the farm manager, noticed peculiar trees bearing distinct and complex-flavored fruit. Although his observations were dismissed by the previous owners, the Pacas family recognized the potential of these trees and embarked on a journey to uncover their true nature. After careful analysis, it was revealed that the mysterious trees were not related to any documented coffee varity, marking the discovery of a new and extraordinary varietal.
Naming the Exceptional Variety
As a tribute to Ruperto Bernardino Merche, the Pacas family named the new variety "Bernardina" in his honor. This exceptional coffee embodies the sweetness of peach, papaya, and mango, with elegant notes of citrus, ginger, and lemon tea. Its unique flavor profile and impeccable quality captured the attention of coffee enthusiasts and experts alike.
The Bernardina Experience
The Bernardina coffee beans are meticulously hand-picked at peak ripeness and processed using a natural method perfected by the Pacas family since 2012. The cherries are dried on raised beds, ensuring even drying and optimal flavor development. After careful cupping and quality control, the beans are stored at the farm's parchment warehouse before being vacuum packed and prepared for export.
Exceptional Qualities and Recognition
Bernardina's genetic analysis revealed its relation to both Geisha and Ethiopian Agaro varieties. Its robustness and promising resistance to coffee leaf rust, which devastated El Salvador's crops in 2013, make it a truly remarkable find. The coffee's exceptional quality was recognized when it secured third place in the prestigious 2019 El Salvador Cup of Excellence competition.
MONO/RARE
The beans from this particular batch of the Bernardina variety underwent a natural processing method. The process begins with the careful hand-picking of coffee cherries on the farm. Following the harvest, any cherries that are underripe, dry, or green are meticulously removed through a sorting process. Subsequently, the coffee cherries are transported to the Vivagua mill, where they skip the de-pulping stage and are instead immediately spread out on raised shade beds for drying.
These layers of coffee are regularly shifted 5-8 times a day to ensure even drying. During the nighttime hours, the coffee is gathered into small batches and covered with jute bags to shield it from dew or unexpected rainfall. The moisture content of the coffee is monitored on a daily basis, and once it reaches 12%, it is carefully packed into jute bags and allocated to specific locations within the warehouse to maintain traceability. These jute bags remain in the warehouse until they are ready for the subsequent steps of dry milling and exportation. The entire drying process spans a period of 25-30 days.
The limited availability of this rare and delicate coffee makes it highly sought after by the coffee community. With intense floral aromas and delightful confectionery notes, the Bernardina offers a soothing and unforgettable coffee experience.
The discovery of Bernardina represents a significant milestone in the world of specialty coffee.
Thanks to the passion and expertise of the Pacas family, this exceptional varietal is now available for coffee enthusiasts to enjoy. As you savor the delicate flavors and aromas of Bernardina, take a moment to appreciate the dedication and artistry that went into every step of its production.
AMOC Jar: our AMOC jars are made from fully recyclable PET. They're light-weight, which means not many resources are necessary for production. And most important: they are reusable for (almost) an eternity.