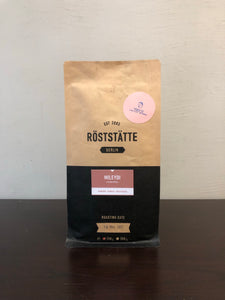 "2021 COE #1 FARM" EL SALVADOR - Mileydi Pacamara (Washed)
Regular price
Sale price
$34.00
---
Röststätte (Berlin)
Due to delivery delay, please kindly note that the roasting date was mid of November and ready to drink just right now.

Finca Mileydi is this year's winner of the Cup Of Excellence competition in El Salvador. It is a small farm with approx. 7 hectares of cultivation area in the Alotpec-Metapan Mountains. The farm is run by Ever Leonel Diaz Perez. Ever Leonel began growing coffee around 16 years ago, and today the farm is one of the most renowned coffee farms in South America.

El Salvador - Mileydi Pacamara 250g
Notes: Mandarin, Kumquat, Green Grapes
Acidity: Silky, Clean, Refreshing
Region: Cantón El Tunel, La Palma Chalatenango
Farm: Finca Mileydi
Farmer: Ever Leonel Diaz Perez
Variety: Pacamara
Altitude: 1350masl
Process: Washed

This super rare lot comes from this year's Cup of Excellence winner farm Finca Mileydi in El Salvador. An intensely fruity, washed coffee with a tea-like and silky texture and notes of mandarin, kumquat and green grapes in the taste. When brewing, the coffee can withstand a high temperature and a coarse grind in order to optimally release all the aromas.
The Mileydi farm in Chalatenango won first place in the El Salvador Cup of Excellence competition in 2021. With a semi-washed Pacamara, producer Ever Díaz achieved 91.68 points to win the most prestigious award in the coffee world for the first time after four previous attempts and finals.
"This is a great achievement for us with a lot of preparation because it didn't happen from one year to the next. I've been growing coffee for 17 years, but I started perfecting and perfecting in 2016. After four participations this is our particularly emotional triumph. "

Ever Leonel Diaz Perez, owner and producer Finca Mileydi


Awards:
1st El Salvador COE 2021
3rd El Salvador COE 2020
13th El Salvador COE 2019
4th El Salvador COE 2018
23rd El Salvador COE 2017
2016 and 2017 Project Origin