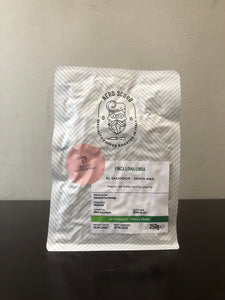 EL SALVADOR - Finca Loma Linda (Natural)
Regular price
Sale price
$25.00
---
Nero Scuro (Vicenza)


El Salvador - Finca Loma Linda 250g

The first specialty micro-lot from El Salvador we present this year comes from the plantations of the Salaverria family with notes of peach, ripe fruits, vanilla, creamy

Notes: Peach, ripe fruits, vanilla, creamy

Region: Santa Ana
Producer:
Finca Loma Linda - Salaverria Family
Elevation: 1500masl
Variety:
Red Bourbon
Process: Natural
, dried on raised beds
This is the first specialty micro-lot from El Salvador we present this year. It comes from the plantations of the Salaverria family, which has been growing coffee for six generations in the Volcan de Santa Ana area. The Salaverrias are well-known for producing specialty coffee micro-lots of the highest quality.
Over 60% of their production is Rainforest certified. Salaries paid to staff are well above the local average, and most of the employees are full-time. The limited use of seasonal labor increases the team skills and consequently the quality and consistency of the lots.
Finca Loma Linda is one of the farms managed by Jose Antonio Salaverria and his two sons, Andres and Jose Antonio, the youngest. The lot we purchased is composed of 100% Bourbon varietal grown at 1500 meters above sea level. The coffees of the Salaverria plantations are all processed for their beneficio (central mill). They bought Beneficio Las Cruces in 1990 and have made significant improvements since then.
This micro-lot was prepared according to the natural process: the cherries were strictly hand-picked only when perfectly ripe, and their color was exactly blood red, intense and uniform. The cherries were then dried on raised beds. The favorable weather conditions and the dry and never too hot climate slowed down the drying phase and allowed perfect control of fermentation. The cherries were turned regularly, several times per day, to ensure the most uniform dry out.
The resulting coffee has a spotless and complex profile in the cup. This micro-lot has all the aromatic traits typical of every remarkable classic lot from El Salvador. Full of sweet flavors resembling peach, ripe fruits, vanilla, this coffee is soft and creamy with delicious sensations on the palate.
It works very well as espresso, but this lot is also delightful in filter extractions.