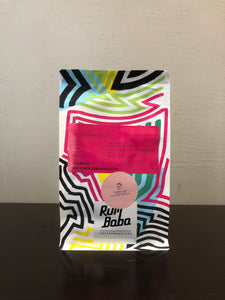 "LIMITED" ECUADOR - San Augustin (Natural & 48hrs Water Soak)
Regular price
Sale price
$33.00
---
Rum Baba (Amsterdam)

Ecuador - San Augustin 200g
Profile: Red Fruit, Yoghurt, Delicate
Area: Tulipe, Pichincha, Ecuador
Farm: Hacienda San Augustin, Alfonso Villagomez
Varietal: Caturra
Processing: Natural & 48hrs Water Soak
The hacienda San Agustin is owned by Alfonso Villagomez, a Q-grader and former environmental consultant who is very methodical in the production of coffee.
The hacienda has belonged to the family for 3 generations but only started producing coffee in 2014.
The farm produces Typica mejorada and Caturra, its profiles are very sweet, fruity and a very interesting acidity.
Alfonso is now experimenting with different processes like carbonic maceration and prolonged fermentation.
He is one of few producers in the area who can offer a natural processed coffee as the area is very humid and has a high annual rainfall.
His trick is drying the cherries in a solar-powered drying chamber, where the heat and humidity can be precisely controlled.

The lot: Caturra Natural 48h
This coffee was first selected by hand to rid of the unripe cherries.
The selected ones then go through a 48-hour fermentation process, where the cherries are placed in fermentation tanks filled with water.
Later, the whole cherries are taken to the solar drying chamber to dry for 15 days.
During this process, the cherries inside the chambers are regularly turned so the drying occurs evenly to the whole lot.
Then, the cherries leave the chamber and are laid on African beds inside polytunnels where they go through a slow stage of drying.
We picked this along with other lots from Ecuador over the last year as this place has incredible potential.
Our aim is to build relationships with various farms across the country. Every cup has been a pleasing and unique experience.