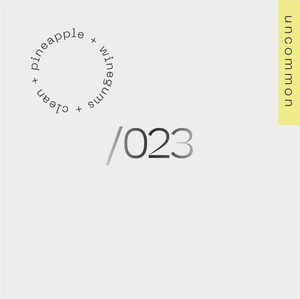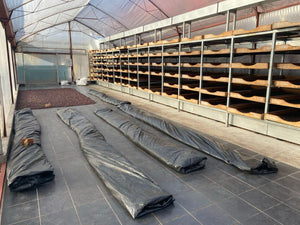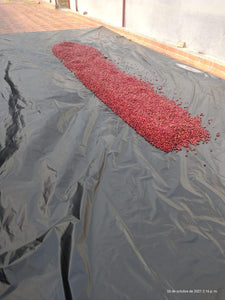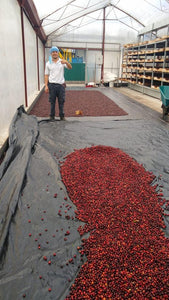 COSTA RICA - Diego Robelo F1 (Churro - Natural Anaerobic)
Regular price
Sale price
$300.00
---
A Matter of Concrete (Rotterdam)
Costa Rica - Diego Robelo 300g (AMOC Jar)
Profile: Think tropical fruits and winegums but still being clean and silky.
Producer: Diego Robelo - Aquiares Estate
Variety: F1 Centroamericano
Region: Aquiares, Cartago Province, Aquiares
Altitude: 1100-1300masl
Process: "Churro" Natural Anaerobic

This is the new crop of te infamous El Churro. We suggested Diego to tryfermenting this coffee a little shorter. We loved the 48h lot, but it was also quite a punch in the face. Reducing the fermentation time to 36h made this coffee a lot cleaner and friendlier, while keeping its tropical character.
What a hit: a winey and tropical coffee that is actually clean and silky too!
Read the full story of the first time we got this coffee here:
We tried this coffee on a cupping table at WOC Milan and immediately wanted it. It had the right amount of funk, crazy juicy but not overpowering. The aroma was scaring, but the flavours intriguing. It's a hate-it-or-love-it kind of coffee, but we love it. There were only 3 bags available of this nanolot, and the guy in front of us during the cupping actually also wanted to buy it. He bought one bag, so 2 were left. Sold.
After a couple of minutes a Costa Rican guy tapped me on the shoulder and said: Hey Rob! I heard you bought 'El Churro'! Amazing. The friendliest guy in the room was the producer of this coffee: Diego Robelo of Aquiares Estate.
Fun fact: this coffee is called "churro" because they roll the coffee cherries in black plastic to ferment inside their solar dryer. Churro is not just the food, but also means 'spliff' in Costa Rican Spanish, because, let's be honest, that's what it looks like when it's rolled. Side note: Diego himself is not a big fan of this name, but his pickers came up with it.
The variety used is their Centroamericano, which is an F1 hybrid varietal, grown between 1100-1300 MASL.
Churro is a Thermic Fermentation, that's intended to bring out subtle alcoholic notes of coffee. The type of microbes fermenting each batch remain constant, since only some can withstand the temperature of 40C to 45C. Call it anaerobic natural, but not in your classic tank.
To us, this incredible coffee from the first cupping reminded us of unfiltered fresh apple juice. With our own roasting profile we tried to lower the booziness of this coffee a tad bit. In the final cup you can find flavours of pineapple, apple juice, mulled wine & limoncello. Expect boozy and winey notes, but not those overripe-fruit tones. We think Diego knows exactly when to stop fermenting and created a funky but still balanced coffee.
—
The farm is nestled between the Aquiares and Turrialba Rivers indeed "Aquiares" means "land between rivers" in Costa Rica's Huetar indigenous language. The region where the farm is located used to be the center for this pre-Columbian civilization and occasionally old artifacts are found among the coffee trees. In fact Guayabo National Monument Costa Rica´s most important indigenous settlement is just 5 km (3.1 miles) away. The land of Aquiares is blessed with infinite sources of clean water and even provides drinking water to three communities down stream.
Aquiares one of Costa Rica's largest and most historic coffee farms sits high on the fertile slopes of Turrialba Volcano. Producing coffee continuously for over a century the farm has developed an enduring model for growing high-quality Arabica coffee protecting a stunning natural setting and supporting a thriving local community of 1800 people. Established by British farmers in 1890 Aquiares was one of the first estates to produce and export Costa Rican coffee. Since 1971 three owner families have worked together with the farm´s staff and community to implement a modern model of sustainable agriculture.
Expect crazy juicy notes. A coffee that you will love (or hate) because of its exceptionally well processing that pushes the limits of anaerobic fermentation conditions, bringing almost a boozy note to the cup. Think tropical fruits and winegums but still being clean and silky.
AMOC Jar: our AMOC jars are made from fully recyclable PET. They're light-weight, which means not many resources are necessary for production. And most important: they are reusable for (almost) an eternity.