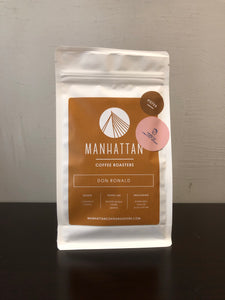 COLOMBIA - Don Ronald (Anaerobic Natural)
Regular price
Sale price
$33.00
---
Manhattan (Rotterdam)

Colombia - Don Ronald 125g & 250g
Purple Grape, Violet, Guava
Farm: El Diluvio
Producer: Don Ronald, Elias Bayter & El Vergel
Micro region: 
Tolima, 
Herveo
Altitude: 1780masl
Variety: Purpuracae
Process: Anaerobic Natural


This year we are diversifying our offering by exploring unique, exotic, and super rare varieties. With this in mind, we bring you Purpuracae!

We've been working closely with Shady and Elias Bayter for quite some time now. Together, we've spent countless hours discussing ideas around processing methods and drying to improve the cup quality of coffee coming from the El Vergel farms. However, this lot is entirely the culmination of work between El Vergel and El Diluvio.
In early 2021 Elias was introduced to Don Ronald at El Diluvio. Ronald has been growing coffee for his entire life and has many rare and exotic varieties that you don't often see grown in Tolima. He has small-scale plots of Sidra, Maragesha, Geisha, and more. Each of his lots are only 1000 - 4000 trees so the production quantity is very limited. When Elias cupped through Don Ronald's lots he offered El Vergel's services to process some small lots of naturals and other experimental processes for him. The results have been utterly wild.
This particularly special coffee is a very rare mutation of bourbon. It is called by a few names (Don Ronald sells it as Purpuracae) but it is mostly known as Purpurascens Longberry which was found in Brazil in the early 1900s. It has a strong root system that makes it very resistant to drought and it is characterized by the purple color of its foliage.

The plant is tall, the branchings from the main stem are widely spaced and the flowers are pinkish. The seeds are long, slender, and pointed on one side.

In the cup we're tasting big purple grape, violet, and guava. It's a relatively heavy profile but more than wild enough for us to say, 'this is world-class!'