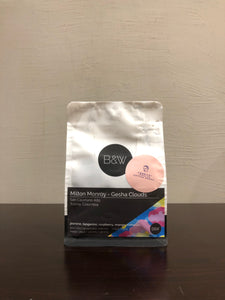 "LIMITED" COLOMBIA - Milton Monroy Gesha Clouds (Anaerobic Natural)
Regular price
Sale price
$53.00
---
Black & White (North Carolina)

Colombia - Milton Monroy Gesha Clouds 100g
ROAST | LIGHT
ORIGIN | TOLIMA, COLOMBIA
NOTES | JASMINE, TANGERINE, RASPBERRY, MANGO, COMPLEX
BLACK & WHITE BLACK LABEL #15
It is truly amazing to see the range of the most talented producers in Colombia throughout a growing season. This will be the fourth coffee we have carried from Milton Monroy from the 2021 growing season. Each coffee has been excellent in its own right, but this one stands head and shoulders above the rest. Milton is able to produce very accessible and delicious naturally processed coffee (like his Castillo and Caturra lots). He also has incredible attention to detail when crafting the perfect Gesha variety microlot, fit for the World Barista Competition. His Gesha Clouds lot is one such coffee. 
We were able to get our hands on 48kg of Milton's Gesha Clouds lot, one of the best coffees we have tasted from the entire 2020-21 season. The Anaerobic Natural processing for this coffee really turns up the fruity complexity of Milton's Gesha flavor profile. There is so much florality and sweetness that you really just have to taste it to understand. We would love to be able to take this coffee with us to compete at Barista Competitions, but based on the life span of green coffee we think it would be better enjoyed by y'all at the peak of freshness!
It was difficult to create flavor calls for this coffee because of the intensity of the fruit characteristics. We simply ran out of space trying to name all the fruits we tasted! The Gesha variety is perhaps most famous for its floral aromas and this coffee is no exception. Vibrant florals and jasmine filled the room as we were cupping our first sample. We tasted ripe raspberries, juicy blackberries, apricots, mango, and tangerines. The cup was bright and acidic and was rounded out by intense sweetness. You do not want to miss out on this experience!
Farm | San Cayetano Alto
Producer | Milton Monroy
Variety | Gesha
Process | Anaerobic Natural
Elevation | 1800 masl