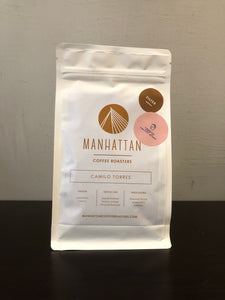 COLOMBIA - Camilo Torres (Thermal Shock Anaerobic)
Regular price
Sale price
$42.00
---
Manhattan (Rotterdam)


Colombia - Camilo Torres 250g
Marshmallow, Lemon Sorbet, Chrysanthemum

Farm: El Paraiso
Producer: Diego Bermudez
Micro region: El Tambo
Altitude: 1800masl
Variety: Castillo
Process: Thermal Shock Anaerobic


Introducing Camilo Torres. This is a private profile of Castillo from the master of processing, Diego Bermudez! Produced solely for us, you can be certain that you can not find this coffee anywhere else.
This lot also plays an important secondary role in our roastery: to shed light on the hard work of Diego and his surrounding friends, farmers and workers that collectively make up the green stock of this coffee.
Rather than write about it ourselves, here is what Diego had to say:
"In 2021, in times of pandemic and struggle for the whole world, a group of childhood friends met again. We were all born in the 90's from peasant families in the municipality of Bolívar (Cauca- Colombia). Our families decided to move from the countryside to the city of Popayán in search of better opportunities. Coincidentally, all those families arrived at the Camilo Torres neighborhood, located in a popular sector of the city populated by bold people of a vigorous character who yearn to get ahead. The circumstances that we lived in back then when we did not have much to offer each other, strengthened our friendship to the point we became a new family and we all had unforgettable moments together throughout our childhood and adolescence.
Into adulthood, each one of us took their own course. We studied, we worked in different sectors, we formed our own families but as years passed, we met again. Many aspects of our life had changed but our friendship remained intact and this united us and landed us in the fascinating world of coffee, with the conviction that together we could move forward and generate a better well-being for all the people involved in the production chain. Now, we work with passion and dedication trying every day to provide one of the best cups of Colombian coffee for the whole world." - Diego Bermudez
As for the coffee, it's processed by way of the usual multi-faceted industrious fermentation that you would expect from El Paraiso. It's an utterly shocking coffee which is both about strengthening relationships and pushing the boundaries of coffee production.
Expect notes of marshmallow, lemon sorbet and chrysanthemum.