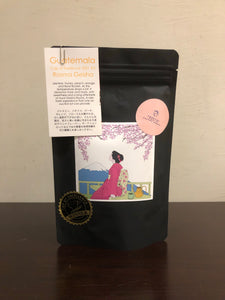 "Cup of Excellence 2021 #3 Auction Lot" GUATEMALA - Finca Rosma Geisha (Washed)
Regular price
Sale price
$55.00
---
ou·bai·tou·ri (Tokyo)
"Cup of Excellence 2021 #3" Guatemala - Finca Rosma Geisha 100g
Notes: Jasmine, Orange, Peach, Floral
Region: Huehuetenango
Producer: Fredy Milton Morales Merida
Altitude: 1493-1829masl
Variety: Geisha
Process: Washed

Beautiful COE lot from Finca Rosma, Guatemala!
Jasmine, honey, peach, orange, and floral flourish. As the temperature drops a bit, it blossoms more and more, with sweetness and a long aftertaste of royal Geisha flavors. A rare taste experience that only an auction lot can provide. 
About Finca Rosma
In 1963 Don Alejandro Morales purchased the farm with old bourbon and typica trees; in 1980 his son Dr. Fredy Morales took over the plantation and in honor of his wife, named the farm ROSMA from Rose Mary. By that time there was no road to the farm having to transport everything on mules walking around 1 hour. With the help of the community leaders of the Caserio Buena Vista, they built a road to the farm that has greatly benefited the entire community. Another important achievement of Finca Rosma was bringing fresh spring water through a pipeline, which is 5 kilometers away from the farm;

Due to the topography of the land, it was difficult to process coffee, it took a lot of work to build the facilities necessary for the production of coffee, therefore, the Coffee Mill has now become a highlight of the property, since then and with an ecological wet mill has been able to process high quality coffee.
In the last 5 years we have been renewing coffee plantation in order improve quality with varaties like: Hibrid H1, pacamara, gesha, SL28 and maragogype.
Finca Rosma has been cataloged as a sustainable coffee farm, taking care of two basic criteria: Environmental and social responsibility. We provide house, schools and medical assistance to employees of the farm.