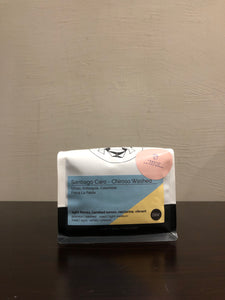 COLOMBIA - Santiago Caro Chiroso (Washed)
Regular price
Sale price
$37.00
---
Black & White (North Carolina)

Colombia - Santiago Caro Chiroso 340g
ROAST | LIGHT MEDIUM
ORIGIN | URRAO, ANTIOQUIA, COLOMBIA
NOTES | LIGHT FLORALS, CANDIED LEMON, NECTARINE, VIBRANT
One of the things that really get us excited is tasting a new variety of coffee that beautifully blends the flavors of two spectacular producing countries (Colombia and Ethiopia, in this case). The Chiroso variety does just that. As a fairly new variety, there is some discrepancy regarding the genetic origins of this coffee. The flavor profile associated with Chiroso coffee closely resembles Pink Bourbon, which we are huge fans of. It is bright and full of citrus but with a brown sugar sweetness which is more reminiscent of coffees from Colombia. We are really excited to be able to bring this coffee to you!
Santiago and his father Jose produce the Chiroso variety at Santiago's farm, La Falda, in Urrao, Colombia. At just 23 years old, Santiago is a very young producer. However, he and his family are dedicated to consistency and excellent quality. He hopes to help his neighbors gain access to higher quality production techniques so they can receive better prices for their coffee. 
Situated at 1930 meters above sea level, La Falda is in an incredible location to make the most of this Chiroso variety. After undergoing a 5-day open-air fermentation, this coffee is fully washed and dried in the sun. This coffee gives off light floral aromas when it is brewed. We taste sweet citrus notes that remind us of candied lemons and there is a stone fruit characteristic most similar to nectarines. This is our first opportunity to share the Chiroso variety with you and we hope you enjoy this coffee as much as we do!
Producers | Santiago Caro
Farm | La Falda
Process | Washed
Variety | Chiroso
Elevation | 1930 masl