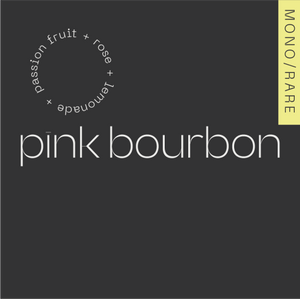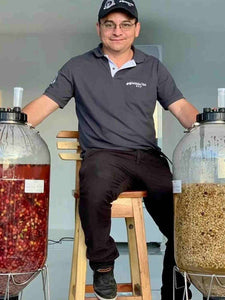 COLOMBIA - Granja Paraiso 92 Wilton Benitez Pink Bourbon (Advanced Process)
Regular price
Sale price
$230.00
---
A Matter of Concrete (Rotterdam)
Colombia - Wilton Benitez Pink Bourbon 100g (AMOC Jar)
Profile: Passion fruit nectar, silky texture & rose lemonade
Producer: Wilton Benitez
Variety: Pink Bourbon
Region: Cucua, Colombia
Altitude: 1900masl
Process: Advanced Process

Wilton Benitez possesses a wealth of knowledge and expertise as a highly specialized coffee producer, having dedicated his lifetime to cultivating exceptional and highly sought-after coffee varieties.
Driven by a deep curiosity, Wilton delved into the world of fermentation technology, studying its applications in diverse industries such as win e, bee r, and cheese production. Through this exploration, he gained valuable insights into the intricate processes behind these products. With this newfound understanding, Wilton began meticulously controlling specific variables in the coffee processing, including sugar content, pH levels, and fermentation duration.
The exceptional taste of Wilton's coffee can be attributed to three key factors: the meticulous fermentation process, the carefully selected microorganisms employed at each stage, and a unique method of soaking the beans in alternating hot and cold water, ensuring the preservation of their intrinsic qualities.
By refining these techniques and harnessing the interplay of these factors, Wilton Benitez has mastered the art of crafting coffee with a distinct and exquisite flavour profile.
PROCESS:
1. Manual harvest.
2. Characterisation of the cherry.
3. Classification of the cherry by density and size.
4. Sterilisation of the cherry (with UV and Ozone).
5. Immersion of the fruits in water at 90ºC for a short period of time to achieve better sterilisation and open the pores of the fruits.
6. First phase of cherry fermentation begins in anaerobic bioreactors where a specific microorganism is added.
7. Once the first fermentation is finished, the shell of the fruits is removed and the grains are taken to other bioreactors for a second fermentation phase.
8. After the second phase of fermentation is completed, the grains
are subjected to hot water impacts and then washed with cold
water.
9. The washed coffee is taken to the ecological drying equipment
where the drying curve is set up (40ºC for the initial 12 hours and
35ºC for the next 24 hours).
La Macarena
That's the name of Wilton's farm. Cool name.
What a stunner coffee this is.
Think flavours of tropical fruits, such as passion fruit nectar with a beautiful silky texture and flavours that reminds us of rose lemonade.
AMOC Jar: our AMOC jars are made from fully recyclable PET. They're light-weight, which means not many resources are necessary for production. And most important: they are reusable for (almost) an eternity.